Puck Pies Archives: April 27th, 2010 - Puck Pies - Southwestern Edition... now Peyote Free!
Wings/'Yotes game seven tonight, obviously. I had to mentally go through everything southwestern that I have ever cooked other than nachos to dig something up.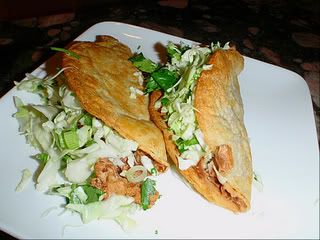 To aggrivate people, there are no ingredient amounts. HA. All you need to do this is grab a few things, and you have some excellent black bean tacos that will blow your mind.
You'll need some veggie oil for frying, some corn tortillas, feta cheese (or other crumbly cheese, like a queso blanco - but feta has more flavor), a bag of cole slaw mixed greens, a lime or two, some fresh cilantro, ground cumin, and a can of black beans.
Open and rinse the beans under cold water in a fine wire mesh strainer. Season with ground cumin and stir so all of it's not on one bean (ed. note - it's gross when you get a cumin bean). Get some oil really, about a quarter inch deep and really hot in a skillet large enough to hold a couple folded tortillas, and when the oil is hot, fill a corn tortilla with black beans. Fry in the oil until the tortilla is crisp, and drain on a paper towel. Fill with feta while still hot.
In a bowl, mix cole slaw greens, chopped cilantro, and lime juice together to taste. Stuff that in the tacos, and ta da. I would not serve these with a heavy salsa at all... maybe a light peach or cactus salsa along with some blue corn tortilla chips. It's a really light dinner, but it's filling. You'll be able to get up off of the couch after munching on a couple of these.
Adapted from Bon Appetit February, 2009